Washington: Steve Bannon, a longtime ally of former US President Donald Trump, has surrendered to federal authorities to face contempt charges after challenging a subpoena from a House committee investigating the insurrection on the US Capitol. in january.
Bannon was taken into custody on Monday morning US time (AEDT Tuesday) and was later released after appearing in court.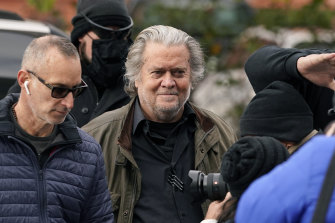 He livestreamed the event for his podcast distributed on a social media service founded by Jason Miller, a former Trump aide who was also cited.
"We are bringing down the Biden regime," Bannon said. "I want you guys to stay focused, stay on the message. Remember, signal, not noise. All this is noise, this is signal. "
The 67-year-old man was indicted Friday. on two counts of criminal contempt: one for refusing to appear for a congressional deposition and the other for refusing to provide documents in response to the committee's subpoena.
After their court appearance, Bannon said they "took on the wrong guy" by filing criminal charges against him.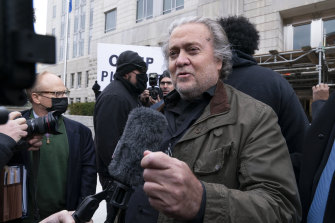 Bannon targeted Biden, House Speaker Nancy Pelosi, and Attorney General Merrick Garland, in comments to reporters outside of federal court after the hearing.
"I'm telling you right now, this is going to be a misdemeanor from hell for Merrick Garland, Nancy Pelosi and Joe Biden," Bannon said. "… And we're going out into the open. We're tired of playing defense."